If you've ever had ongoing or chronic pain, you know how it can not only be debilitating, but that it affects those around you as well. Sometimes the treatments affect you and those around you too.
I received a truMedic TM-1000Prp Deluxe TENS Unit
to review. Having never used one, I wasn't sure what to expect. I was pleasantly surprised to find I really like it and it really offers me relief!
Pain makes it hard to be productive. All you can think about is the pain. You feel negatively so you react negatively, even to those you love, even when you don't mean to.
Prescription medications help some people, but not everyone and not everyone can take them. Even over-the-counter medications can have serious side affects. I rarely take any medicines at all and have to be very careful when I do. I get sleepy if I take aspirin! So sometimes I just suffer through minor aches and pains.
My husband on the other hand, has suffered from migraines since he was young. Over the years they increased in frequency, duration and strength. He would very rapidly escalate to vomiting and not being able to keep anything down. Not even the medication that was supposed to help. At one point, we were paying a couple thousand dollars a month for prescription medications.
In addition to the medicines, he got massage and chiropractic treatments. They helped to a degree, but they cost a lot of money and time. He had to miss a lot of work to go to various doctor appointments.
Being able to get relief at home or even while working, is a huge convenience! The truMedic TENS (
Transcutaneous Electrical Nerve Stimulator) Unit
makes that possible.
Because TENS therapy is considered free of side effects, you can use it whenever you feel the need.
The TENS machine itself is a small electronic device that delivers current through electrodes placed on the skin. Unlike systemic drugs, which affect the entire body, electrotherapy targets pain exactly where it occurs.
This unit is not only easy to use, it is incredibly lightweight! It weighs only 4.5 ounces! It is no bigger than most television remotes. The included case makes it easy to discretely carry with you so you can use nearly anywhere.
With the dual electrode jacks, you can treat more than one area at a time. You can even share with your partner by placing the second set of electrode pads on the area they need treated. The pads are even reusable with just a little care to keep dirt and skin oils off them.
There are 20 treatment levels for your comfort. The
large BACK LIT LCD display shows you at a glance exactly what is happening, including the setting "Massage, Beat, or Knead" and the time left on the cycle. And the unit is rechargeable so you're not constantly replacing batteries and it makes it easier to take it on the go.
Below is some information showing where you can place the electrodes to treat different areas for different types of pain. I have seen a few different diagrams about this, but one key thing to remember, is not to place the electrode over a joint or "bony place", as there is no muscle tissue there.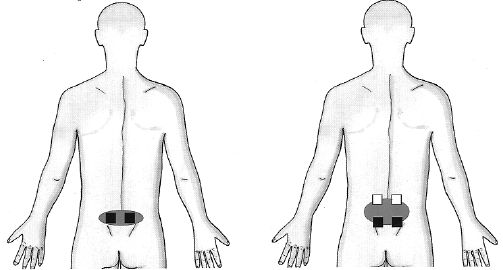 Electrode placement for lower back pain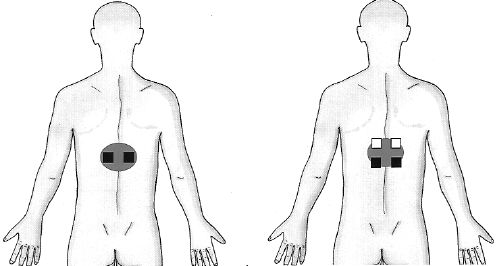 Electrode placement for upper back pain.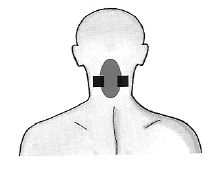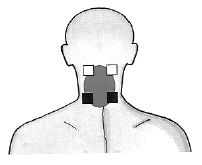 Electrode placement for neck pain and whiplash.

For hip pain, place the electrodes on the front and back of your hip.

Hip Pain electrode placement.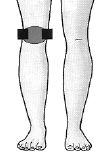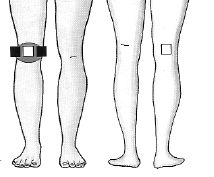 Electrode placement for knee pain. For 4 electrodes, the 2nd pair goes on the front and back of the knee.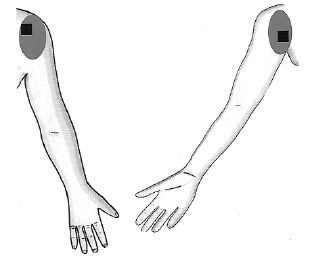 Electrode placement for shoulder pain. Place electrodes on outside and inside of shoulder.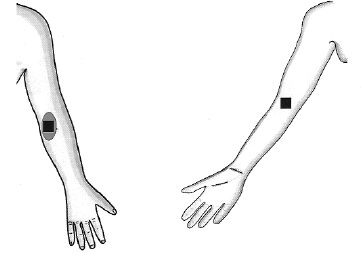 Electrode placement for tennis elbow.
Electrode placement for ankle pain.
Electrode placement for back pain with sciatica.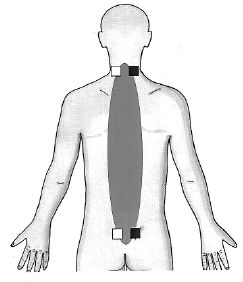 Electrode placement for Ankylosing Spondylitis.
My knee feels very good after using this TENS unit! I never would have imagined this! I love the different settings and how I can adjust from one to the other as well as the intensity of each.
This TENS unit can be extremely effective for all of your aches and pains, on almost all areas of your body. Use it on your wrist, hands, shoulders, elbows / joints, back, shoulders, calves, knees and many more. Perfect for lower back pain back, which affects an estimated 80 percent of Americans. with the truMedic TM-1000PRO, you'll be ready when body pain strikes.
#trumedic
With the
truMedic Tens Unit
unit, you can take charge of your pain management on your own terms. Check it out on Amazon.com.
*** People with certain pacemakers and pregnant women, should not use a TENS unit. If you are not sure whether TENS treatment is right for you, consult a doctor first ***
Disclosure: I received this product for the purpose of my honest review. I was not compensated in any other way. The opinions expressed are 100% my own based on my usage of this product. Your opinion and experience may differ.